COLLECTION OF GLASS NEGATIVES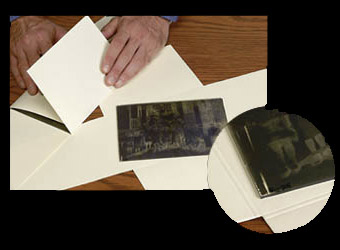 There are more than 80,000 negatives fixing the entire history of archaeological investigations in Chersonesos including photos of excavations in progress, views of uncovered monuments, and numerous images of finds, as well as materials for the history of establishment, formation and development of museum collections, portraits of those who researched Chersonesos, members of the Imperial Archaeological Commission and Odessa Society for History and antiquities. All these negatives are stored in Scholarly Archive at the National Preserve of Tauric Chersonesos.
Glass-based negatives form the most interesting and at the same time problematic part of the collection. It includes more than 10,000 glass items. These negatives fix the process of archaeological excavation, artefacts discovered by the excavations, exposition of the first museum that was called the Warehouse of Local Antiquities. Glass negatives are of different size: 13 х 18 cm, 6 х 9 cm, 9 х 12 cm, and 18 x 24 cm. They were produced in the late nineteenth and early twentieth century. There also is a group of negatives of 1940s and 1950s, when the museum had no photo films under the circumstances of post-war ruin.
Unfortunately, and probably due to inadequate conditions of preservation in past years or to difficulties in evacuation and transportation back in the period of the First and Second World Wars (1914, 1918, 1941, 1944), many negatives have defects: peeling and physical injuries of emulsion, some are broken into pieces.
To ensure the safety of documents and at the same time their availability for scholars form controversial aims. The main problem facing all the curators of documents concerning archaeological sites and monuments is often use of rarities by modern scholars in their daily work.
In 2003, the Scholarly Archive at the National Preserve of Tauric Chersonesos within the frames of cooperation between the Preserve and the Institute of Classical Archaeology and Harry Ransom Humanities Research Centre at the University of Texas in Austin launched long-term program for preservation of valuable archival materials. The program has its main direction in saving original documents from damage and destruction by means of their conservation and restoration and gradually.
| | | |
| --- | --- | --- |
| | | |
This program's main aim is to protect original documents from damage and destruction by means of conservation and restoration, and gradually take them out of daily use providing the scholars with a possibility of working with archival documents in digital form.

One of the most important stages foreseen by the program is digitalizing negatives and photographs in order to save them. In 2004, we started scanning glass-based negatives and making structured description of them within special database. This high-definition (600 dpi) scanning is made with professional large format (A3) scanner by Epson Co. with slide module built into the lid of scanner.

Thus we create digital copy of negatives in TIFF format and reduced copy of it in JPEG format to be used in computer network. TIFF or the so-called master copy is burnt to DVD in two copies and is stored in appropriate conditions outside the archive.

The whole information concerning negatives is included into database. Description is made through a module of our "Megarika" system.
The software program allows user to select an image from the array of digitalized data.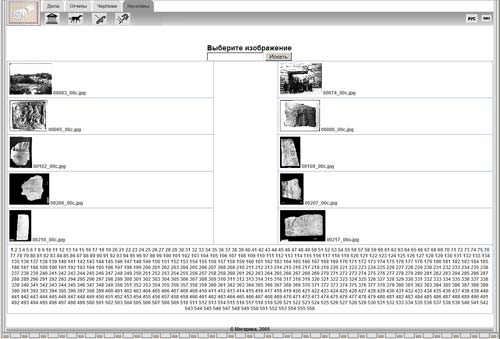 Then user fills in fields in database taking into account:
| | | |
| --- | --- | --- |
| - investigation of original plate | | - verification the information in appropriate museum registration book. |
The image selected for description could be enlarged several times.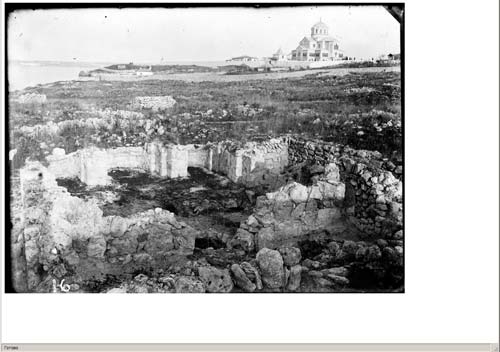 The description includes the following basic fields:
- photographer or excavation director;
- photographing object;
- year of photographing;
- direction of photographing;
- number, size and material of negative;
- preservation of negative including the indication of defects of plate and emulsion.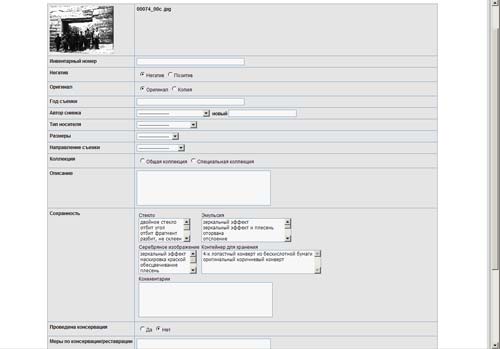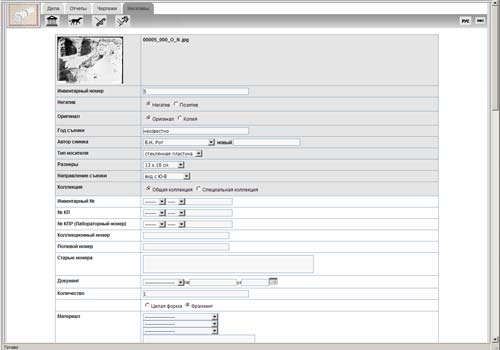 Besides, the database contains description of images on negatives according to the classification developed: typology (for images of finds) and topography (for images of excavations).
In result, the database management system allows us to find and view digital copies of necessary negatives and make sampling according to all parameters of description.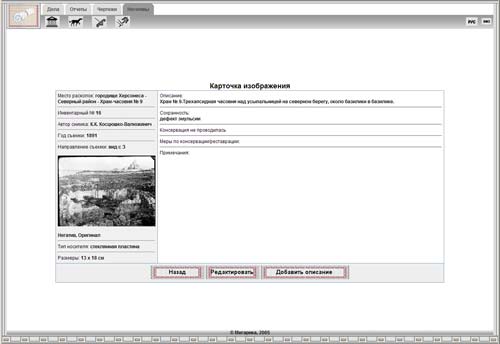 Another useful treatment is applied to glass negatives. First of all, we investigate them and then make cleaning, restoring (if necessary) and repacking.
Earlier, negatives were stored on shelves within enveloped of compact uneven "kraft" paper sealed up from three sides. To view a negative, you have to extract glass plate through a slot and then put it back into the tight envelope. Unfortunately, this operation damages emulsion layer.
Now negatives are packed in convenient four-flap envelopes of acid-free paper and then they are put into special boxes of appropriate size. The boxes and envelopes are labelled correspondingly.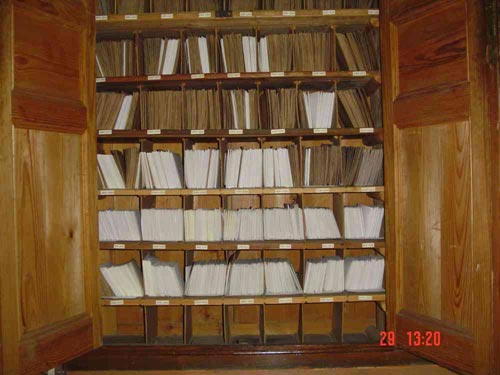 Repacking glass-based negatives
The cleaning and packing are made simultaneously with digitalizing. Besides, broken negatives are restored: all fragments are joined against solid glass plate of appropriate size, another glass plate is placed above, and the whole sandwich is glued over along the edges with compact paper frame. Now we can put this negative into a scanner and restore its digital copy with graphical software.
In 2005 and 2006, all the archive staff went through the training course under the head of leading specialists of Harry Ransom Humanities Research Centre at the University of Texas in Austin, and namely James Stroud, Olivia Primanis, Barbara Brown, Stephanie Watkins. During 2005 and 2006, graduate and PhD students of the School of Information at the University of Texas in Austin Holly Robertson, Robin Howard, Tish Brewer and Emily Rainwater participated in scanning, restoration and repacking few thousands negatives and other ancient archival materials. We are very grateful to them!
James Stroud in Chersonesos
teaches archive employees, 2005

Barbara Brown delivers training course
Such a complex approach to preservation of our glass negatives collection secures its complete safety and at the same time availability for studying. To publish in the Internet, we have selected negatives of different preservation, made with different photo devices, but we have deliberately decided not to retouch them by adjusting sharpness or applying half-tones. We are showing you the exhibits as is. They survived to this very day in this form, and we would like you to have the whole amount of historical information included in them.
And the last but not the list, we would like to say our most deep thanks to remarkable person of Glenn R. Mack. Our work with the collection of old negatives is based on his love to these imprints from the epoch that passed away. It was 2001 when Glenn, being an employee of the Institute of Classical Archaeology, started working in the Scholarly archive at the National preserve of Tauric Chersonesos with the aim of preparation popular book on Chersonesos.
Every summer he came as a member of international team and laboriously studied old maps and plans, read manuscript archaeological reports using his brilliant knowledge of Russian language. One of the parts of the archive, glass negatives captured the heart of the former Time's photojournalist once and forever. His sincere admiration of our collection, his care of preservation of these priceless and fragile evidences of cooperation between archaeologists and photographers have brought our international program into existence. He himself scanned more than a thousand negatives in 2003 and 2004. Today Glenn is working in completely other area, but he will certainly glad to see that his idea has been realized.
© N.Krasovskaya, T. Dianova, 2008